I have been given the privilege recently of serving as the president of the Higher Education Student Association (HESA) at my university. This org was on it's last legs. I was looking into the group whose last post on twitter was May of 2012. Due to unforeseen circumstances, it was left without a president or direction and a new, inexperienced advisor.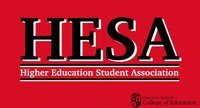 After speaking with the new advisor and considering my own interest, I really began to run with the idea. I had huge dreams about it being the preeminent Higher Ed org on campus if not the state; a great tool not only for our own development but recruitment to the school of both potential grad students and even undergrads. I had all these ideas and dreams of things I wanted to see happen.
Time came for our first meeting and I wasn't sure who or how many would show up. Several classmates did and we held elections and I was given the honor of being named the president. More importantly, I had a group to back me up. We began to put together all kinds of things to get HESA off the ground.
Then came our first exec meeting. I was terrified. I had no idea what or how things would happen and as I stood before this group of friends I found myself doing something that I have not felt for many years: fear of speaking before a public group. I was thoroughly nervous about this. Let me clarify, I was not scared that this group could not do their jobs. I was not scared of speaking to these people. I was scared of leading these people. More specifically, I was nervous that I would fail them.
So we began our first meeting and something wonderful happened (sometimes it is nice for your friends to be all about challenge and support). This group stood up with me with just as much enthusiasm and excitement. We set goals and arranged a plan. It was an amazing feeling to see these people get pumped up.
Now, looking back on that meeting, I find myself being reminded of some points from Mindy Sopher's COM 466 class. Specifically some of the nonprofit leadership challenges.
1) Aligning Mission, Methods, and Resources. One point that was brought up was setting up a plan for events so that we could schedule them and make them happen and align them with our goals.
2) Earning the Public Trust. This will be a piece that we are continuously working on as we seek to become that well known group, but my friends in this room are ambitious and felt we are more than enough to really make this happen.
3) Balancing Individual Interest versus the Common Good. The other intimidating piece of this meeting was that until this point, the vision and movement of the org had been mine. As bad as it sounds, I was scared of having some abrupt changes. However, my exec board was very supportive and agreed with my thoughts, as well as complimenting it with their own. Our vision was much greater than any small thing I had planned.
4) Capitalizing on Opportunities Associated with Diversity. This was a fun point to discuss. The org in the past has been aimed almost exclusively at Grad students, particularly Master's students. One point was that we wanted to expand our vision and horizons to include anyone and everyone interested. We want to change the org from the ground up. One problem with an org focused on Master's students is there is even a greater turnover rate than with a traditional 4 year program. We want to change that and make an organization that is truly sustainable.
I was and am honored to have such an incredible group of people to work with and even more importantly, to call friends. Having a connection with such incredible people has been truly beneficial to my own well-being and I cannot wait to see what our work will do for this student org.
And those of you who know about the nonprofit leadership challenges, you may be asking about #5? Well…
5) Moving Beyond Charity to Systemic Change.
I will keep you updated. 🙂